Objective Lens for Vacuum with X-Ray Aperture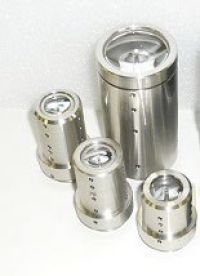 Objective lens for a vacuum environment with an x-ray hole along the optical axis.
Stainless steel without surface treatment to prevent outgassing.
A through hole for degassing to discharge air between the lens at the side of the lens barrel.
A transparent hole to transmit X-ray at the center of the hole. Objective lens for vacuum without transparent hole also available.

Customize product
Filters
Enabled filters :
Remove all filters
Guide ▶We support to design, manufacture and OEM supply of various kinds of custom lens based on our many years of experiences on optical design, polishing, coating and assembly technology.
■Custom lens design example
・Large aperture fθ lens (scan area 180mm)
・Machine vision lens with mega-pixels
・Projection lens for exposure system
・objective lens for fs laser
・Variable spherical aberration correction objective lens
・Phase contrast microscope unit
・Differential interference microscope unit
You must be logged in to ask questions