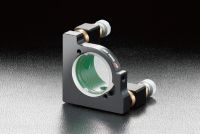 Mounted High Surface Flatness Mirror
By bonding the coated surface to our Kinematic Mirror Holders, a λ/10 surface flatness is guaranteed! This product is suitable for high accuracy wavefront optical systems and interferometer requirements.
You must be logged in to ask questions
◦2 types of performance mirror holders are offered: high stability mirror holder (MHG-HS) or production model (MHG-MP).