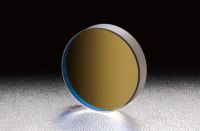 Negative Dispersion Mirrors for Femtosecond Laser
This mirror has a negative dispersion and can be used for pulse compression in a femtosecond laser system.
You must be logged in to ask questions
◦These mirrors are more compact and exhibit a smaller optical loss than the conventional prisms used for pulse compression.
◦Center wavelength is for Ti: Sapphire at 800nm.
◦Plano and concave substrates designed for cavities are available.