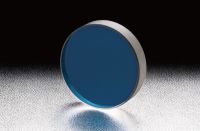 Low Dispersion Mirrors for Femtosecond Laser
This mirror is designed to provide low wavelength dispersion suitable for use with ultra-short pulse lasers with 100 femtosecond or less.
You must be logged in to ask questions
◦We have designed a special thin film coating that optimizes wavelength dispersion, range and the strength of lasers.
◦It has the effect of suppressing the spread of the pulse width produced by a plurality of reflecting mirrors.
◦There are three types available, FLM1 standard, FLM2 wide wavelength band, and FLMHP for high power femtosecond laser*.
◦These mirrors are designed and produced for usage within the microscopy with femtosecond laser and optical systems with femtosecond time-resolved spectroscopy.