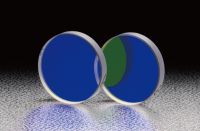 Wide-Angle, BK7, Broadband Dielectric Mirrors
You can use the 0-45° Wide Angle Dielectric Mirrors for an optical system for reciprocating the light between two mirrors or Michelson interferometer, if you want to use a mirror at an incident angle of 45 ° or less. When used at 45 degree and 0 degree incidence angle, one mirror can be shared to obtain high reflectivity.
You must be logged in to ask questions
◦Very high reflectivity can be obtained between 0 degree to 45 degree angle of incidence.
◦If used at a fixed angle of incidence, it can also be used as a broadband mirror. For example, if TFVM-800 is used in a 45 degree incident, reflectance of 99% or more can be obtained in the range of 730nm to 900nm.
◦Since there is no absorption in the coating there will be very little change in the performance over time and the mirror is durable even with continuous laser irradiation.