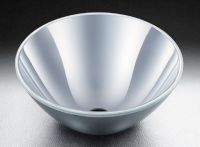 In general, an ellipsoid has two focal points and the light that passes through one focal point also passes through the other focal point after being reflected by the elliptical surface. By using this principle, if one light source is put on one focal point, it is possible to collect light at the other focal point. It is used to incident the light of the lamp into optical fiber or light guide.
You must be logged in to ask questions
◦It obtains high performance condensing by precision aspheric surface processing.
◦It can provide long-term stability because it has a protective scratch-resistant coating over aluminum.
◦Customer can select a mirror to suit specifications from among the wide variety of products which are classified in the focal position and outer diameter.