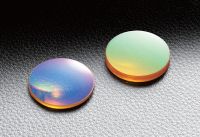 Meniscus Lens for CO² Laser
Zinc selenide (ZnSe) meniscus Lens (ZnSe) is used as a condensing lens with CO2 laser (10.6μm). The meniscus designed shape is optimized to minimize spherical aberration.
You must be logged in to ask questions
◦With anti-reflection coating the loss due to surface reflection can be reduced, and the laser light with high efficiency can be condensed.
◦ZnSe crystal has little hygroscopic, it can be handled in the same way as a normal optical element.
◦Since ZnSe crystal is a isotropic crystal, it does not have birefringence (polarization characteristics).

Important: Treatment of ZnSe optics
ZnSe (Zinc selenide) is Poisonous and harmful substance classified as legal, depending on the specifications, the certificate of delivery may be required for acquisition of Poisonous and harmful substances. In addition, ZnSe Optics disposal after use is prohibited in general.
Lenses that are no longer needed, please return it to us.
However, we only take back products that we supplied. This policy noted is in Japan and other countries may differ in the treatment of ZnSe (Zinc selenide), please contact your local sales office.