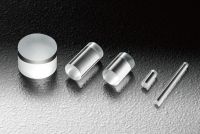 Rod Lenses are cylindrical lenses with polished on its circumference surface. These are used in several applications including laser focusing beam into a line, changing beam shape into sheet-shape or irradiating at a distance with elongated line.
You must be logged in to ask questions
◦Focal length shortened by reducing the rod lenses diameter compared to cylindrical lenses.
◦Precise processing and polishing yields distortion-free, flex free straight line gain when projection is made from a distance.
◦Suitable for collecting large amount of light when installed it in front of a line sensor.