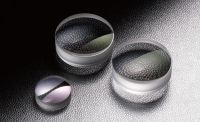 An economic general use achromatic lens suitable for an optical system, which does not require high surface quality imaging such as a microscope lens or telescope lens.
You must be logged in to ask questions
◦Specification except surface quality is almost the same as DLB series. Except when used in high-precision experiment using a laser, this lens is recommended.
◦It is optimized so that focal length gap is small in the visible light range and the aberration is minimized.