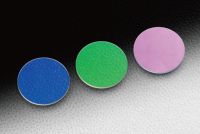 Visible Square Dichroic Filters
The dielectric multi-layer coating offers a high optical performance. Provides a wide range of visible color quality green, blue, red, yellow, magenta and cyan.
You must be logged in to ask questions
◦The switching from reflecting and transmitting is steep; it is usable as a wavelength separation filter.
◦Easy to be used as a variable wavelength filter by changing the angle of incident.
◦Able to choose from a range of the six fundamental colors, fits perfectly for color vision experiments.