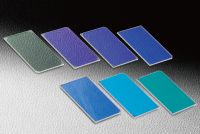 Sharp Cut Dichroic Mirror
Divides sharply the color of wavelength by reflecting the short wavelength and transmitting the long wavelength. Suitable for use in Bio-imaging and flow cytometry applications.
You must be logged in to ask questions
◦The short wavelength has high reflectance, fits perfectly for use in excitation light and fluorescence imaging.
◦The feature of the structure of this mirror is to maintain the distance of the edges of the P polarization and the S polarization to be close to each other. It narrows the gap of the reflective range and the transmission range to provide a steep rise.
◦There is limited absorption due to the dielectric coating.