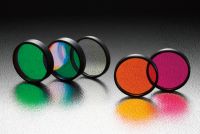 YIF is a filter that can extract a selected light from the wavelength range. Its primary feature is the ability to pick out a high transmittance wavelength at the same time cutting off a wavelength.
You must be logged in to ask questions
◦The filters are made by Ion Beam assisted dielectric coating process which can assure an extremely high environment resistance and high stability.
◦Using high absorption glass material and heat absorption optical coating, it assures a low deterioration with any types of light-source.
◦The filters were designed as the BP type light blocking characteristics of high OD7 at the long wavelength side than the pass band and the BA type light blocking characteristics of high OD7 at the short wavelength side of than the transmission bandwidth.
◦The filters can be used to cut the non-irradiated light wavelength excitation in fluorescence observation and cut the non fluorescence wavelength excitation light in sample observation.
◦In addition to the BP type filter and the BA type filter, there are broadband type and narrowband type that can be chosen according to your application.