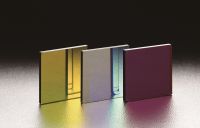 Bandpass Interference Filters (Square)
VPF band pass filter with effective diameter at 45mm square. Fit for experimentation that needs large collimated light incident on sample or on a large diverges light which requires a larger size band pass filter.
You must be logged in to ask questions
◦The filters are made of dielectric multilayer coating and metallic coating which assure a steep rise and a sharp cut-off spectrum.
◦A selection of filter from the spectrum half-width from 10nm to 12nm, the center spectrum from 400nm to 900nm with 10nm increments.
◦The whole lateral side of the filter is painted in black to avoid scattered light effects.