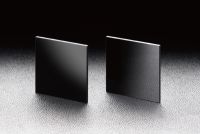 A filter that transmits a specific wavelength in the UV range and cuts the visible range. It is used to select UV wavelength from a light emission or select a specific wavelength from multiwavelengths.
You must be logged in to ask questions
◦It is widely used in fluorescence imaging or selecion of only UV exposure from a visible light.
◦UTVAF-36U is used for selecting the emitted light of the i line (365nm).
◦Use the filter in a short wavelength detector, or to cut off the brightness of the visible light and increase the sensibility of the UV light.