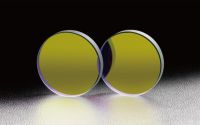 Harmonic separators are designed to separate specific YAG harmonics from other harmonics. We offer three standard wavelength (1064nm, 532nm, 355nm) reflectance YAG harmonics.
You must be logged in to ask questions
◦These mirrors are coated with multi-layered dielectric with different refractive index, using BK7 optical parallels with λ/10 surface flatness and parallelism of 5 arc second. The other surface is coated with multi-layer anti-reflection.
◦These mirrors are used at 45° incident angle to reflect specific wavelength beam and transmits other YAG wavelengths.
◦For plate type, you can use a large laser beam diameter.