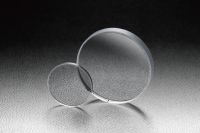 Chromium Half-Mirror Plate Beamsplitters
Chromium plate half mirrors are plate beamsplitters that are coated with chromium (Cr) on the front surface of optical parallels or wedged substrates. The other surface is coated with multi-layer anti-reflection.
You must be logged in to ask questions
◦Half mirror divides input beam into reflectance and transmittance ratio of 1:1. A beamsplitter of R:T=1:1 is called "Half Mirror".
◦Approximately one third of the input beam is lost because of the absorption of chromium. However these beamsplitters do not depend on wavelength, polarization and angle of incidence of the input beam, and provide a highly neutral reflectivity.
◦Plate beamsplitters have beam deviations on transmission and ghost on rear surface reflections. Wedged substrates are used to prevent ghosting.