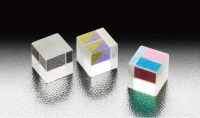 Non-polarizing Cube Half Mirrors
Half mirrors have an even 1:1 ratio of reflection and transmission in both linear polarized light and normal light source.
You must be logged in to ask questions
◦The reflection to transmission ratio is 1:1 regardless of the polarization condition from the input beam.
◦Depending on polarization, the reflection to transmission ratio of these products does not vary.
◦The laser lines listed correspond to various laser wavelengths.
◦Narrowband multi-layer AR coatings are applied to the four surfaces of the cube.
◦These cubes afe designed for a single wavelength because the effective bandwidth of a non-polarizing coating is narrow.