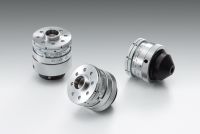 Reflective Microscope Objectives Lenses
These reflective Microscope objective lenses are optimized for chromatic aberration over a bandwidth of 350nm to 7um. They are mainly used in microscope-spectrometry and failure analysis in the semiconductor industry.
You must be logged in to ask questions
◦Adjustable for use with various types of microscope tubes with focal length ranging from 80mm to infinite
◦The reflection mirror is strengthened with aluminium coating and MgF2 protective layer.
◦The RMS(M20.32 P0.706) mounting thread conforms to JIS standard and is compatible with all major microscope tubes.
◦The focus point and image size of visible, UV and IR wavelengths shows no difference and precise matching of the images is possible.