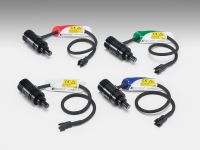 LED lights for coaxial epi-illumination and spot illumination.

Customize product
Filters
Enabled filters :
Remove all filters
You must be logged in to ask questions
Useful for coaxial epi-illumination for our zoom microscope, ultra long working distance zoom microscope, observation unit with coaxial illumination, and various telecentric lenses.
Useful for spot illumination.
?Useful for ring or line illumination when connected to various light guides.