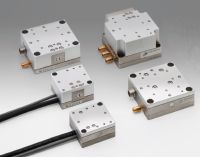 Sigma Fine (Piezo) Stages (high stiffness type)
Nanometer resolution high stiffness flexure stages.
Attention ▶The travel at closed loop control is reduced to around 20% less than at open loop control.
You must be logged in to ask questions
◦These compact piezo stages offer high precision and high resolution positioning by utilizing full closed loop control with digital frequency based sensors.
◦Using piezo element actuators, open loop travel between 90μm − 100μm is available, with minimum incremental motion as small as 1nm. Compared to the open-loop control, the maximum travel of closed-loop control will be less about 10%.
◦Closed loop travel is 80% of the open loop maximum and closed loop resolution is 10nm.
◦Recommended controllers are the FINE series controllers.Both digital and analog inputs are available.