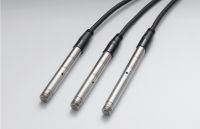 It is a low cost actuator equipped with a DC motor of a small size and high thrust force.
It is compatible with micrometer head using the manual stage of Sigma Koki and can be easily automated.
You must be logged in to ask questions
◦A customer can remove the micrometer head on its own and replace with the remote actuator.
◦It is possible to select the movement amount of 13mm and 25mm depending on the application.
◦Since USB interface is a standard feature, it can easily be operated from the PC.
◦Since the remote control is possible, it can also be used in a hard place to work as well as a narrow place.