Adapter for Mounting objective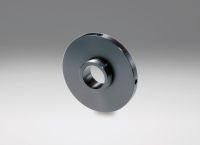 Adapter for fixing objective lenses on 5-axis lens holder (ALHN-5RO) or φ50mm lens holders.
In combination with the LHO-20.32-N or LHO-20.32A-N, objective lenses the thread type of which is M20.32 can be fixed.

Customize product
Filters
Enabled filters :
Remove all filters
Attention
Adapter for objective lens itself cannot mount the objective lens. Please also purchase LHO-20.32-N or LHO-20.32A-N.
f you can not dismount the objective lens holder from the adapter, please install pins in the hole on side of the adapter and dismount it with firmly holding the adapter.
There is possiblity that the mounting screw will be tight when you use other company's objectives even if its thead type is the same.
Guide
Criss-cross type lens holder (TAT-16 or TAT-30) and its objective lens adaptor (TAT-180A) for objetive lens center adjustment is available. (WEB Reference Catalog Code/W4514)
| Name | Delivery | Price | Add to cart |
| --- | --- | --- | --- |
You must be logged in to ask questions