COMPANY

The parent company was founded in 1977 in Japan, we put our nearly 40 year's experiences in manufacturing optical component and opto-mechanical component to scientific research and photonic industry at your service. Our presence is strong in Asia and in the USA with 8 out of 10 researchers know about Optosigma brand of SIGMAKOKI Group.

Optosigma Europe was established in early 2014 in the heart of Europe (France) to provide support to our distributors and get closer to the European customers. Our structure in France is Sales support and manage the European logistic center.

Our goal at OptoSigma is simple. We are working to build a long-standing partnership with you by earning your trust and confidence as your Optical component; Thin Film Coatings, Opto-Mechanics, Manual and Motorized positioning supplier of choice. We do this by continually working to bring you the best products, with the best selection from stock, at the best prices, all together with the best service available. Everyone at OptoSigma is committed to your satisfaction.

For your daily optics and opto-mechanics needs, you can order on our online catalog or ask for your paper catalog by sending us your request by email to sales@optosigma-europe.com, we are guaranteeing you that you will get an answer from us in less than 24 hours.
DAILY OPTICS
We have opened a new logistic center in France since April 2014. The daily standard optics and opto-mechanics can be shipped to you in 24 hours. For new users, we would like to reassure you that all our opto-mechanics are available in Metric and Inch size and they are compatible with the standard product from other makers. If you need a drawing to evaluate the compatibility, please visit our web site and select your product and download a DXF or 3D drawing from our web site.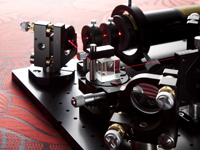 CUSTOMS OPTICS
Today 50% of our sales are customs optics and customs opto-mechanics. We have 6 factories and design center in the world, our capabilities in offering you any of your most challenging inquiries in optics and in opto-mechanics without breaking the bank. The reason of this large customization capability and flexibility is because Optosigma was founded to manufacture the photonics components on demand from the scientific and researchers. We have this in our DNA and we continue to do it.