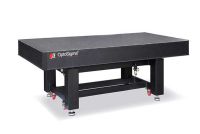 Quick Delivery Optical Tables - Stocked in Europe
Vibration Isolation - Steinless - Optical Tables - IN STOCK. Easy shippable OSDVIO Optical Tables
Name
Support Type
A x B
H
T
Delivery
Price
Add to cart
Self-Standing Rigid M6 Table 1500mm x 1000mm x 200mm
OSDVIO-R4-1510M-200t(800H)
Rigid
1500mm x 1000mm
800mm
200mm

in stock

€3,748.00

Tie-Bar Rigid M6 Table 1800mm x 1000mm x 200mm
OSDVIO-R-1810M-200t(800H)
Rigid
1800mm x 1000mm
800mm
200mm

in stock

€3,802.00

Self-Standing Pneumatic M6 Table 1800mm x 1000mm x 200mm
OSDVIO-L4-1810M-200t(800H)
Pneumatic
1800mm x 1000mm
800mm
200mm

in stock

€4,596.00

Tie-Bar Pneumatic M6 Table 1500mm x 1000mm x 200mm
OSDVIO-I-1510M-200t(800H)
Pneumatic
1500mm x 1000mm
800mm
200mm

in stock

€4,752.00

Self-Standing Pneumatic M6 Table 1500mm x 1000mm x 200mm
OSDVIO-L4-1510M-200t(900H)
Pneumatic
1500mm x 1000mm
900mm
200mm

in stock

€4,170.00

Self-Standing Rigid M6 Table 1800mm x 1000mm x 200mm
OSDVIO-R4-1810M-200t(900H)
Rigid
1800mm x 1000mm
900mm
200mm

in stock

€4,174.00

Self-Standing Pneumatic M6 Table 1800mm x 1000mm x 200mm
OSDVIO-L4-1810M-200t(900H)
Pneumatic
1800mm x 1000mm
900mm
200mm

in stock

€4,596.00

Tie-Bar Rigid M6 Table 1500mm x 1000mm x 200mm
OSDVIO-R-1510M-200t(800H)
Rigid
1500mm x 1000mm
800mm
200mm

in stock

€3,376.00

Self-Standing Rigid M6 Table 1500mm x 1000mm x 200mm
OSDVIO-R4-1510M-200t(900H)
Rigid
1500mm x 1000mm
900mm
200mm

in stock

€3,748.00

Self-Standing Pneumatic M6 Table 1500mm x 1000mm x 200mm
OSDVIO-L4-1510M-200t(800H)
Pneumatic
1500mm x 1000mm
800mm
200mm

in stock

€4,170.00

Tie-Bar Pneumatic M6 Table 1800mm x 1000mm x 200mm
OSDVIO-I-1810M-200t(800H)
Pneumatic
1800mm x 1000mm
800mm
200mm

in stock

€5,178.00

Self-Standing Rigid M6 Table 2400mm x 1200mm x 200mm
OSDVIO-R6-2412M-200t(800H)
Rigid
2400mm x 1200mm
800mm
200mm

in stock

€5,967.00

Self-Standing Rigid M6 Table 1800mm x 1000mm x 200mm
OSDVIO-R4-1810M-200t(800H)
Rigid
1800mm x 1000mm
800mm
200mm

in stock

€4,174.00
You must be logged in to ask questions
These are similar to the OSDVIO-R and OSDVIO-I Optical Tables

◦This vibration isolator rapidly attenuates vibrations transmitted to mounted equipment and instruments, and is essential for equipment and instruments that are affected by vibration.
◦The bench is lightweight and has excellent stiffness due to the steel honeycomb core.
◦The top surface of the bench is made from a magnetic stainless steel with tapped holes.
◦The manual leveling system does not require a continuous air supply. The isolators can be pressurized with just a hand air pump.