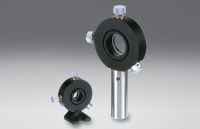 Two-axis lens holders with compact centering mechanism. The compact centering adjustment mechanism makes a low optical axis easy to accommodate. Can be used for adjusting the focus point of a laser beam or the direction of a collimated beam.
You must be logged in to ask questions
◦For Lens diameters from 10mm to 50.8mm.
◦Deep enough to hold thick achromatic lenses.
◦The thin frame allows optics to be placed close to the front and back of the lens.