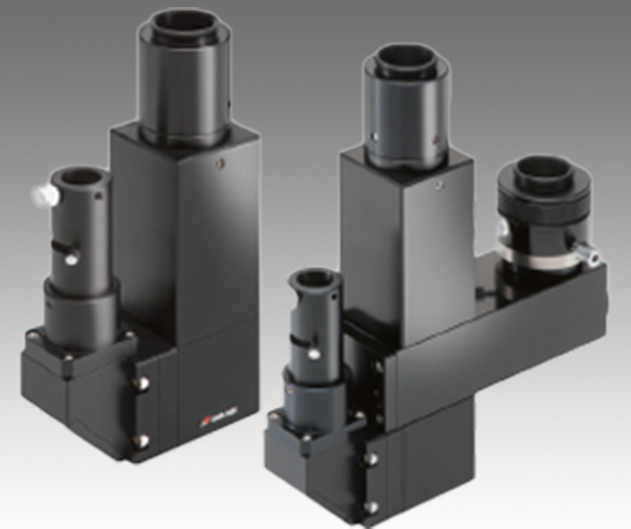 Modular Microscope Systems (OUCI)
Microscope Unit Guide
We provide three different types of observation systems.
For the purposes of experiment or work, you can select an appropriate observation system.
Observation unit with coaxial illumination
Attaching the objective lens for a microscope, it displays an enlarged image on the monitor or laptop PC by using the camera. By using a compact barrel with ports for illumination, there is flexibility of installation, and it also can be incorporated into the production equipment such as a laser processing machine.
It is quite useful to observe the high magnification in particular.
Stereo Microscope
Since it can obtain the observed image that there is a very wide field of view by binocular and a disparity of the left and right eyes, it is suitable for the observation of irregularities such as electronic components and processed parts.
With a long working distance, it is suitable for observation while moving the sample and for the visual inspection by frequent exchanging of a sample.


Color Camera

Analog (Bayonet Connector)

Best suited for installation in devices because the cable length between the camera and a monitor can be long.

◦USB

By installing the viewer software that comes with the camera in a PC, it is easy to save images. It is provided either 2 million pixels and 5 million pixels according to the required resolution.

◦HDMI

The camera can be directly connected to a high-definition compatible monitor. Best suited for visual inspection which requires high resolution and high frame rate.

Using the remote control unit that comes with the camera, you can display a cross line or shadow mask at any position on the screen, or make adjustments such as brightness (gain) or contrast while looking at the display on the screen.

Learn More

Objective lenses for visible range

SKU :

OUCI-OBJECTIVES-VIS

With its long working infinity correction function; this objective lens can be used for a laser system and coaxial observation. The objective will allow user to focus a visible laser or microscopic observation of objects from a distance.

Learn More

Objective lenses for UV range

This objective lens can be used for laser machining using pulsed laser of SHG (532nm) YAG laser and FHG (266nm) YAG. Chromatic aberration is suppressed in both the visible and UV laser wavelength, achieving a high transmittance.

Learn More

Objective lenses for NUV range

SKU :

OUCI-OBJECTIVES-NUV

This objective lens can be used for laser machining using pulsed laser of THG (355nm) YAG laser. Chromatic aberration is suppressed in both the visible and UV laser wavelength, achieving a high transmittance.

Learn More

Objective lenses for NIR range

SKU :

OUCI-OBJECTIVES-NIR

This is a high NA infinity corrected objective lens for laser processing (femtosecond laser and fundamental of YAG laser). You can also observe the laser beam coaxially with a laser processed surface that is designed to reduce the aberration of the visible wavelength.

Learn More

Objective lenses for YAG harmonics

SKU :

OUCI-OBJECTIVES-YAG

This objective lens can be used for laser machining using pulsed laser of SHG (532nm), THG (355nm), and FHG (266nm) YAG laser. Objective lense provides high transmittance at three harmonic wavelengths of YAG.

Learn More