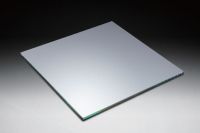 Low Cost Aluminum Flat Mirrors (Rectangle)
An economic general use mirror suitable for an illumination optical system and a simple experiments. It has the same reflectance and surface flatness as our aluminum mirrors (TFA) designed for use with a laser, but lower surface quality.
You must be logged in to ask questions
◦The dirt on the surface of the mirror can be wiped because the scratch-resistant protection is coated on the aluminum coating.
◦Reflectance of less variation can be obtained in a wide wavelength range from visible to near-infrared.