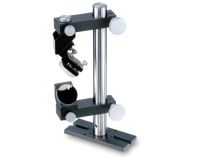 Beam steering mounts are designed to easily change the height and direction of laser beams.
You must be logged in to ask questions
◦Length of the optional post (PO-20-***) can be specified at the time of purchase.
WEB Reference Catalog Code/W6053
◦Mirrors φ25mm or less with a thickness of 5mm can be bonded to the holder.
◦The clamps can be coarsely adjusted when rotated 50 mm about the center post.
◦Adjustment screws are provided on the output side of the mirror to fine tune the direction of the output beam.