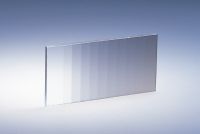 Reflective Stepping Variable ND Filter
For adjusting the transmitting light at equal intervals of optical density. Fit for densitometer and colorimeter calibration use.
You must be logged in to ask questions
◦Possible to visually select and use 11 steps of optical density on one single plate.
◦The chrome thin coating applied is design to adjust the laser spot power.
◦The optical density is shows only minimal change across the visible wavelength range.