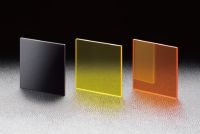 Short Wave Cutoff Filters
Longpass filter that cut the short wavelength and let the long wavelength transmit. Primarily used for cutting the unused wavelength like the UV light when doing inspection and measurement experiments.
You must be logged in to ask questions
◦The cut wavelength range is well absorbed without leaking of transmittance light.
◦Can select the transmitted light with an accuracy notch as accurate as 10nm to 20nm.
◦The transmitted wavelength range has low absorption and no ripple, even at 2000nm with no ripple transmittance is present.