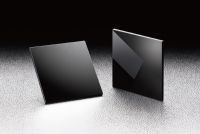 A filter that transmits IR wavelengths and absorbs the UV and Visible range. It is widely used in IR light selection from visible light and applications include infrared alarm systems, night vision systems.
You must be logged in to ask questions
◦Transmission limit wavelength selectable at ranges from 760nm to 985nm.
◦It is used for a IR sensing camera by adding an IR transmitting filter onto an image sensor.
◦The visible and UV range can be blocked and the sensibility get higher by adding it onto an image sensor.