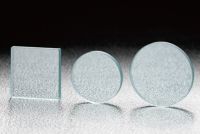 This product is widely used for absorbing heat from halogen and xenon lights for experiments that need to avoid UV or heat from those lightings.
You must be logged in to ask questions
◦Keep away from the heat that is released from NIR and IR range and it cuts off the brightness of the NIR and IR light.
◦It also cuts-off spot light and heat during microscope illumination.
◦Light transmitted through the filter does not darken the high transmitted visible light.