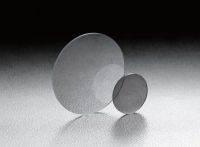 The polka dot beamsplitter is a beamsplitter that has aluminum coating of halftone dots (polka dots) on the glass substrate. It has a low dependence on the incident angle and can be used in a wide range of wavelengths from ultraviolet region to the infrared region.
You must be logged in to ask questions
◦Reflectance to transmittance ratio is manufactured by adjusting the area ratio of the points that have been coated.
◦Unlike dielectric beamsplitters, the polka dot beamsplitter reflectance and transmittance ratio does not change as the incident angle changes.
◦There are two sizes available φ25.4mm and φ50.8mm diameter and three types of reflectance to transmittance ratio, 7:3, 5:5 and 3:7.