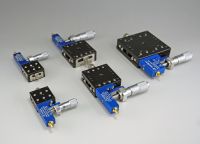 Piezo-Assist X-Axis Stages
The piezo adjustment is designed to be used in conjunction with the micrometer to extend the stages resolution from 10μm down to <20nm.
Attention "▶When installing the stage, be careful not to give a shock to the micrometer bracket. Otherwise, the piezo assist mechanism may be damaged.
▶ When the power of the piezo assist dedicated controller (PASC) is turned off, the position adjustment of the piezo assist will be changed, and position for fine adjustment will be shifted."
Guide ▶Use the piezo assist controller (PASC) to adjust the fine movement mechanism. A piezo assist controller connection cable (2m) is included with the piezo assist stage.
You must be logged in to ask questions
◦A dedicated controller for the piezo assist stage easily perform fine adjustment without any setting. The fine adjustment of the dial type knob can be used without resistance even in combination with a micrometer head.